CONTACT INFO

| | | |
| --- | --- | --- |
| | Call Farley Malorrus for Readings, Lectures, Tutoring, Appearances, Media, or questions at 310- 415-9222, Visa/MC Accepted. | |
MAIN MENU

Biographical Timeline

Born 8/11/48 in St Louis MO


Graduated in 1970 with B.A.'s in English, Speech, and Drama.


Cruise Ship Astrologer on 16 ships including the QE2.


First Radio show 1983.


Over 20 years of Radio and TV appearances.


RadioAstrology launched 2006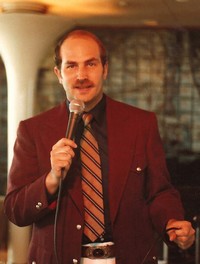 Farley Malorrus
Farley was born on August 11th in Saint Louis, Missouri where he grew up in that area for most of his early years. Farley graduated Central Methodist in 1970 with B.A. degrees in English, Speech, and Drama, with a minor in History.

He also attended the University of Missouri between 1966 and 1968, Santa Monica College during 1967, University of Arkansas, 1969-1970 and the University of California, Los Angeles [English] Grad School in 1971.

From 1975 to 1979, Farley attended the Academy of Atlantis, Los Angeles where he obtained a Red Flame Degree.

Following his 34th birthday, Farley decided to travel the world by way of 16 cruise ships, visiting over 150 ports for 10 years, as the Ship's Astrologer. Most notable was the Ship's Astrologer on the QE2 in 1982 for the World Cruise. During this time he practiced Astrology and entertained the guests with his enthusiastic wit. While Farley was on the QE2 for the World Cruise, he was intensely inspired by his friend George C. Scott, who he spent almost every day with on the Cruise. He also went to Martinique with Art Buchwald at that time who was also a powerful inspiration.

Farley entered the radio scene in 1975 where he soon became a popular addition to various DJ's in the Los Angeles area. His first show, Astrology and You, was aired on KIEV in 1983. In 1984, K-Fox radio, a New-Age talk radio station, picked Farley to anchor their noontime radio spot for the next 9 years. This is where Farley launched Astrological Metaphysical Radio.

From 1992 until 1996 he continued the show with CRN. In 1997, Farley was picked by the Los Angeles ABC7 Eyewitness News team to deliver forecasts for around 400 Morning Shows.

Other notable Radio and TV events include: The America Show with Morgan Fairchild, McLain Stevenson, and Sarah Purcell in 1984. The Arsenio Hall show (twice) in 1986. The Late Show (twice) in1988.

Farley also taught many seminars on Karma, Karma And Astrology, Viking Runes, How to Learn Astrology, How to do an Astrology Radio Show, Crystals, and special seminars on Meditation.

In the early nineties, Bonnie O'Brien and Kenneth Hirst, were responsible for compiling Farley's book entitled "Twilight's First Gleaming," Bonnie transcribed the spoken word while listening to his shows, numbering over 300. Kenneth electronically scanned, edited and typeset selected topics for the book.

As a seasoned Astrologer, Farley gave thousands of readings, both on and off the air. He even did the Inaugural Chart for President Reagan in 1980, which was later hand delivered to the president.

His notable predictions include many earthquakes, including the more famous Northridge and a year later Kobe--both within 48 hours. In addition, he accurately predicted over 20 Sports Championships, including the Lakers Dynasty, the Dodgers World Series, and the Rams Super Bowl win in 99.


P

UBLIC

S

UPPORT



| | | |
| --- | --- | --- |
| | With your support, you help to keep higher consciousness radio alive. We can accept most forms of payment. | |
FARLEY'S BIOGRAPHY